Oakland Center for Spiritual Living is the perfect venue for your upcoming party, workshop, concert, wedding, memorial, or other event.
We are located in the upper Rockridge area of the Oakland Hills at 5000 Clarewood Drive, the Oakland Center for Spiritual Living can be reached using the Broadway exit off of Hwy 24 or the Moraga or Broadway Terrace exit off of Hwy 13.
This easy freeway access makes it a great central location to all of the East Bay.
Please contact our Rental Facilities Coordinator Susan Brecker for additional information, to schedule a tour of our facility or to schedule your event. Call Susan at (510) 547-1979 ext. 4, or e-mail Sbrecker@oaklandcsl.org.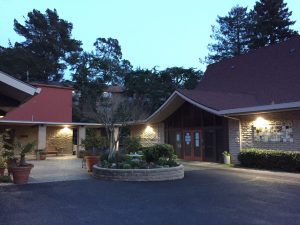 Our Social Hall
– Measuring approximately 40 by 50 feet, our social hall is a great multi-purpose open space with recently refinished hardwood floor and a high ceiling. Capacity is 200 for a reception (no chairs), 150 theatre seating, and 100 for sit-down dinner set-up. This is our most versatile space, and our most popular rental.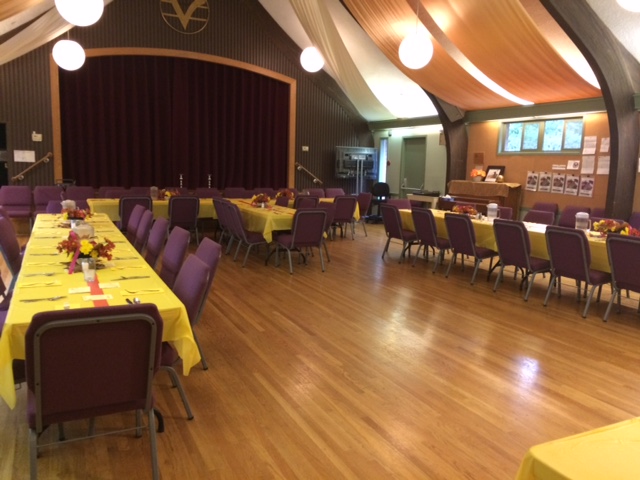 Our Parking – Our main parking lot consists of 108 parking spaces, five of which are designated handicapped. There is additional street parking on Clarewood Drive both up and downhill from the Center for about as far as one would care to walk.
"My wife and I are so glad that we chose the Oakland Center for Spiritual Living for our wedding ceremony. The facility and its staff exceeded our expectations in every respect. The sanctuary is colorful, warm and welcoming – a perfect setting where our guest of different faiths and backgrounds could feel comfortable and included. The Center truly provides the ambiance of a sacred space and peaceful oasis that is conductive to a meaningful celebration. Most important, the Center staff worked closely with us to find the best way to utilize the facility and actualize every detail of our vision for the event. Everything was perfect."
"Much love and respect to your Facility coordinator and on-site staff during our event. All of those who supported us were just a delight to work with and super comforting throughout the process leading up to our event. The attention to detail was greatly appreciated. The Oakland Center for Spiritual Living is just the perfect place to have an event and we are so pleased we found you. We plan on doing it again next year!"
"Thank you for your support in making our mother's memorial service a wonderful experience."
"Thank you for your honest, friendly and all around genuine service you provided my family and friends. The Oakland Center is such a gem! I look forward to many more events at your beautiful Center."